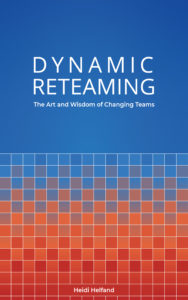 Buy the book:
Watch me speak about reteaming in this GoTo Chicago Video 2019
Dynamic Reteaming on the Programming Leadership Podcast 2019
Interview – Reteaming and Creativity in Innovation
Webinar on Dynamic Reteaming with Conferencia Agile Spain from Dec 2018
LeanAgile Scotland keynote on Dynamic Reteaming from Oct 2018
Agile Cambridge keynote on Dynamic Reteaming from Sept 2018
qCon Talk on Dynamic Reteaming from June 28, 2018
Book Excerpt April 2018: Dynamic Reteaming Ecocycle
DoJoLive Interview, June 2018
Deliver: Agile Webinar Replay on Dynamic Reteaming, March 2018.
GoDigital Iceland November 2016 video
Agile Alliance August 2016 (Members Only Content ) video
Dynamic Reteaming on Infoq podcastMarch 2018.
LeanPub podcast about my career & my book October 2017.
Dynamic Reteaming on the Passionate teams podcast Nov 2017.
Dynamic Reteaming on the Agile Uprising podcast.
Dynamic Reteaming – on Corgibyte's Legacy Code Rocks Podcast. Check it out here
Dynamic Reteaming Podcast on GrokShare with Dr. Dave Cornelius.
May 2016:  I was interviewed by Vasco Duarte on his ScrumMaster Toolbox podcast.  Here are the episodes – take a listen and let me know what you think:
Reteaming – Benefiting from changing teams
Nurturing Relationships as a way to manage the system – In this podcast I talk about having retrospectives beyond the team level, specifically getting groups of people with common goals together for reflecting, such as mentors, new hires, people that interview, etc.
Helping Teams Gain their Independence – the scrummaster's job is to help the teams be "self-running." We help get them up to speed and then fade out so that we can help other teams.  I talk about that in this episode and also our goal of developing small things to solve customer problems – really a Lean UX approach to development.
The Us vs Them Antipattern – When a team member is struggling and they are in a different role, we need to band together to help them succeed.  Relationship building is imperative in software development.  If you know and care about the people you work with, everything else is easier.
Command and Control Agile – this is the story of how we mandated pair programming and came to it with a "policing" approach – and how that failed.  We then started trusting our engineers and developed a culture where people choose how they want to work..whether it's pairing, mobbing or whatever. After that shift we had more pairing.  It was a great lesson learned.  This episode also talks about the antipattern of scrummasters or agile coaches that try to impose their own agenda onto groups that might benefit from some other practice. Maybe the coach learns a new tool that they are excited about and they bring it to a team but the team really doesn't need that practice at all.  I call that "poorly done foreign aid."