Dynamic Reteaming
The Art & Wisdom of Changing Teams | Second Edition
Written by Heidi Helfand / Forewords by John Cutler and Diana Larsen
This book is for people working inside tech companies who are able to influence or make decisions about team formation, team change, and reorgs.
What People Say About the Book
"Whether you like it or not, teams are going to change. You might as well get good at it." This is the premise of Heidi's book, which is a treasure trove of stories and anecdotes from practitioners from all over the world. The author brings to life her extensive research coupled with deep personal experience. I highly recommend this book as a source of inspiration and guidance for anyone working with teams in a world of change."
—Sandy Mamoli, Nomad8, coauthor of Creating Great Teams
"For most of us, our image of teamwork needs to be updated—the stable, familiar groups of people who learn how to work together well are being replaced by fluid, porous teams that have to work together in new ways. Helfand provides inspiration and practical insights for how to do this well.
—Amy C. Edmondson, Harvard Business School, author of Teaming
and The Fearless Organization
"Building effective teams is hard. A good team is a dynamic thing that changes all of the time. Understanding this and using it to help to guide your team is a cornerstone of any approach to continuous improvement. Heidi's book describes powerful, real-world patterns based on her extensive experience that will help you to reflect on what is happening in your team and give you a guide for what to do next."
—Dave Farley, coauthor of Continuous Delivery
"Heidi's wisdom will change how you think about, form, re-form, and participate
in teams. Her stories, whether from the three successful startups she's guided through hypergrowth or the dozens of teams she's interviewed across the globe, delineate the power, intelligence, and joy of reteaming. If you seek a healthier, happier, more harmonious approach to teaming, study this book."
—Joshua Kerievsky, Industrial Logic, author of
Refactoring to Patterns
"High-performing teams are simultaneously powerful and fragile. Changes to the team can quickly disrupt their flow, but can also bring new insights and better ways of working in the long run. Dynamic Reteaming is a fundamental book for anyone involved in the fine art of balancing team evolution with team health in the real world. The author's immense experience is in full display here, backed by meaningful examples and concrete patterns."

—Manuel Pais, coauthor of Team Topologies: Organizing Business
and Technology Teams for Fast Flow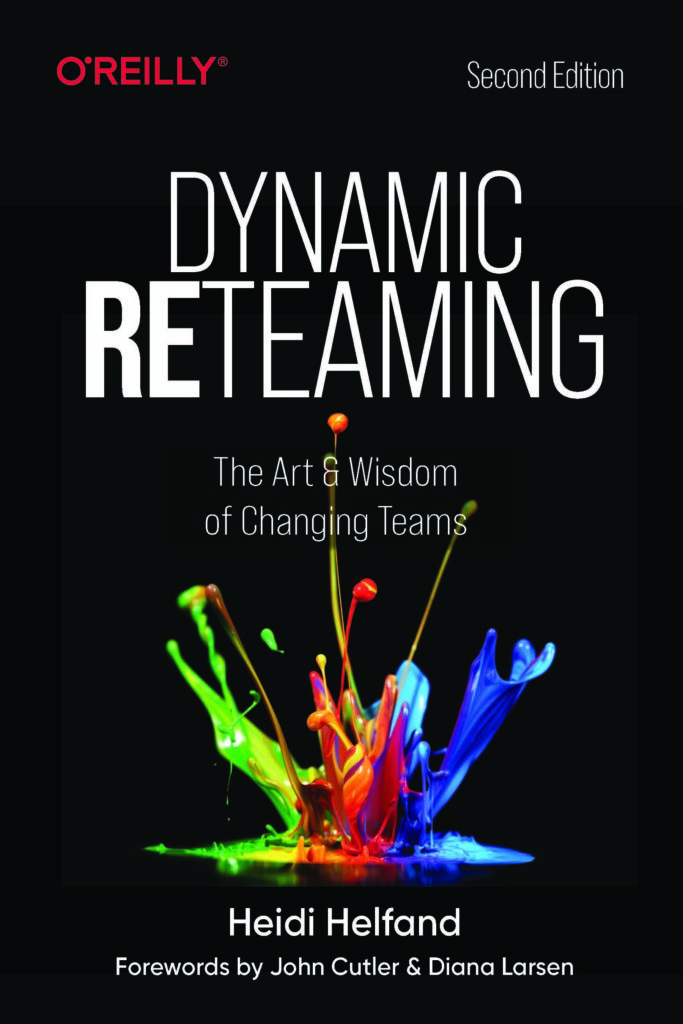 About the book
Your team will change whether you like it or not. People will come and go. Your company might double in size or even be acquired. In this practical book, author Heidi Helfand shares techniques for reteaming effectively. Engineering leaders will learn how to catalyze team change to reduce the risk of attrition, learning and career stagnation, and the development of knowledge silos.
Based on research into several well-known software companies, the patterns in this book will help you effectively integrate new hires into an existing team, manage a team that's lost members, or deal with unexpected change. You'll learn when to split a team, how to isolate teams for focused innovation, how to rotate team members for knowledge sharing, how to break through organizational apathy, and much more.
You'll learn:
Five patterns of dynamic reteaming, One by One: Grow and Split, Isolation, Merging, and Switching
Why companies reteam and reorganize, through real-world examples
How to design or change your organization so it's resilient and adaptable
How to plan reteaming initiatives and coach team members through change
How dynamic reteaming can help a mature organization innovate quickly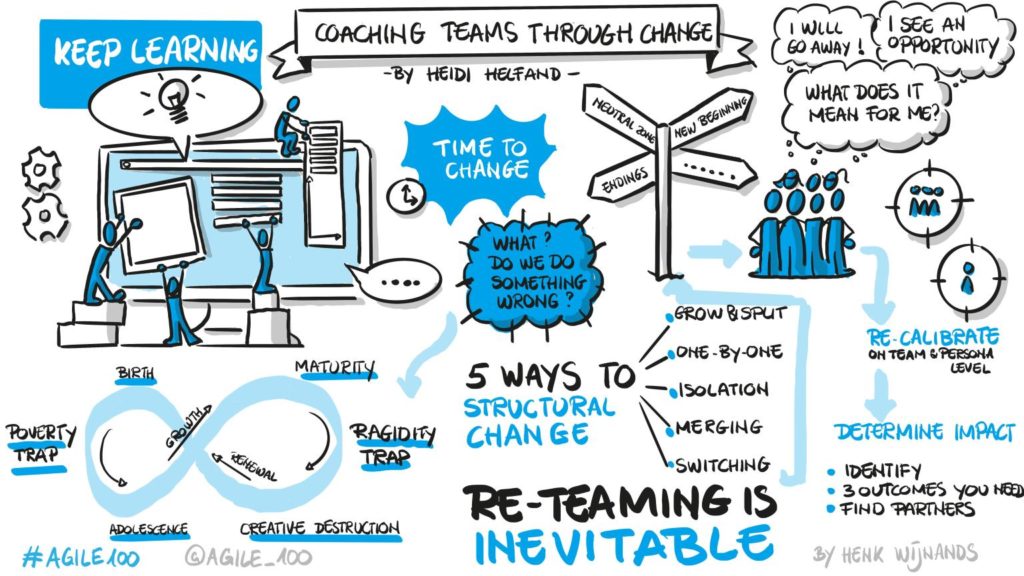 What's New in the Second Edition?
New interviews with technical leaders from well-known companies
New chapter on how to plan a dynamic reteaming initiative at your company
New chapter on team calibrations – step by step activities that you can use right away with teams so that they align on history, who the team members are as people, the mission and specifics about their work, and how they want to manage their workflows and pursue excellence.
Expanded chapters on how to onboard new team members and better treatment of the merging pattern
How to run reteaming retrospectives and gather feedback with surveys
Better integration of the Ecocycle metaphor for team change across the whole book
Dynamic Reteaming: 1st Edition
Want to read the first edition? Here's how to get it before it gets retired.